Care Guide
SEX DOLL CARE GUIDE
UNBOXING & ASSEMBLING SEX DOLL
1.When you receive your adult sex doll, it is important to keep the box flat and to open it flat on the floor. Check the contents, remove the wrapping materials carefully to avoid breaking any nails or fingers. Make sure that you don't leave any item while removing all the protective materials.
2. In most packages, the real doll head is put between the upper thighs and will be the first thing you need to take it out. So, get hold of it and remove the packing foam carefully to get the head from the packaging bag. Unpack the head, put it on the floor and get the other body parts. Do not throw the bag away. you can use it to store the head after use.
3. As you may expect, many accessories, including clothing and wigs, come with the love doll. Remove one after the other and put them in a separate area. At this point, you should be able to lift the doll's body easily.
4.Now that you have gotten everything out of the box, use scissors to remove the protective foam covering her. Take care with the scissors to avoid tearing into the sex doll's body. After that, wrap your arms around the blanket beneath the item and slowly lift her out of the box. Put her on the floor carefully.
5. Bring the head near the neck and gradually screw it in. Also, put on the wig, and now you have the complete sex doll of your dreams.
6.Clean your full-size sex doll body with a clean wet cloth gently before first use.
7.All clothing must be cleaned before dressing your real sex doll. Make sure that any clothing you put on her is color transfer resistant. Though stain remover does an excellent job of removing most stains, there are still some stains that could be difficult or even impossible to remove.
8.The new real doll's joints might be a little bit stiff. So be careful while attempting to move the doll's limbs. After a few days, the joints will loosen up.
CLEANING
Cleaning and maintaining your adult doll improves longevity, enabling you to enjoy your purchase for longer. What's more, regular cleaning means that your premium love doll will always be ready for you. Most importantly, cleaning your sex doll regularly avoids the spread of diseases and infections. Poor hygiene promotes bacteria accumulation, ultimately causing infections.

How Often Should I Clean My Love Doll?
1. Before first time use. Similar to what you always do when you buy sex toys, ensure you clean your real doll completely. Use antibacterial soap and water to wipe off the body and use the vaginal irrigator or squirt water bottle to wash the holes like the vagina. Cleaning up your custom sex doll prior to use helps clean off any dirt and bacteria that might be stuck on the surface or inside the holes. Likewise, ensure you let it air dry completely and spray some baby powder or corn starch before using it.
2. Once you have cleaned your sex doll after unpacking, we suggest creating a regular monthly cleaning routine. Your sex doll's material is vulnerable, and good hygiene is the only way you'll be able to make use of the doll for a long time. Always clean your sex doll completely every four weeks. This routine ensures your love doll stays fresh all the time without harming the material by overcleaning.
3. After every use. Cleaning sex dolls after every usage is the most effective way to keep the doll clean. Nevertheless, just clean essential sex doll parts like the vaginal area or anal opening after every use. You should clean other components like the wig, the sexy doll's head, and the neck monthly. If yours has a detachable vaginal area, just pop it off and wash it separately. You can wipe off any visible dust marks on the body with a clean, wet cloth.

How To Clean a TPE or Silicone Sex Doll
Besides keeping your sex doll fresh, the time you spend cleaning your doll enhances the bond between you and your sex doll. So, below are instructions for keeping your doll clean while enjoying your alone time with your partner.
1. Place your sex doll in the bathtub or wherever you intend to clean it.
Ensure the head and neck do not make contact with the water. Submerging the doll's head and neck in water can cause the adjoining screws to rust.
2. Use anti-bacterial soap and a sponge. Gently rub the sex doll's skin with the soapy sponge.
3. Wash with clean water.
4. Air-dry the doll. Or cover it with a couple of dry towels to absorb the water.
5. Sprinkle baby powder, especially in the orifices, prior to storage, to prevent the sticky sensation and to maintain soft skin.

How To Clean Love Doll's Holes.
Most sex dolls come with all three functioning orifices — vaginal area, anus, and mouth. And while that indicates more dynamism, cleaning the holes can be a little challenging, particularly if they're not removable. Keeping them clean avoids bacteria accumulation. So below is exactly how to clean the fuck doll's holes:
1. Removable Vagina.
Remove the pussy from the love doll.
Run water and an antibacterial soap mix to clean off the dust, lube, and semen.
Scrub the orifice with the sponge on a stick for an easier cleaning experience.
Wash with clean water.
Use a tidy towel to dry it, then leave it to air dry.
As soon as it is completely dry, store the orifice separately from the adult doll and reattach it during usage.
The majority of people will use a fan to dry the orifice, but do not use a hairdryer. The warm air from the dryer can damage the orifice material.

2. Non-removable Orifices.
Place your sex doll during cleaning to make sure that water douched with the vaginal irrigator or squeeze bottle can easily flow off the orifice.
Follow the same procedure as for a removable orifice and ensure you dry it thoroughly.
How to Clean the Sex Doll's Face
1. Moisten a sponge with antibacterial soap and water. Carefully clean the face.
Wash the sponge with clean water and wipe off the soap.
2. Don't use a showerhead when cleaning up the life-like sex doll so water doesn't reach the neck screws.
3. Use a clean, dry towel to get rid of the moisture. Leave the face to air dry completely.

How to Dry Your Sex Doll
1. After the sex doll is clean, lay down dry towels on a flat surface area and carefully place your doll on the towel.
2 Use another clean, dry towel to get rid of the moisture on the skin. Leave the face to air dry completely. You can also put a small towel or kitchen paper towel in the orifices to take in moisture.
3. Once the sex doll is completely dry, sprinkle baby powder and massage gently onto the skin. The powder keeps the sex doll's skin soft.

How to Wash The Wig
1. Clean the wig with shampoo. Wash out all the shampoo and then leave to dry. 2. When it's dry, use a comb to comb the wig gently and carefully to avoid interweaving.
STORAGE
1. The storage space should always be clean, cool, and dry to enhance longevity. The best way is to place your realistic sex doll in a sitting position or lying on her back. It is recommended to keep the arms and legs straight in order to avoid harming the skin or the skeleton.

2. We recommend storing the adult doll in a storage bag in the original product box or a flight case. If you store the real feel sex doll in a storage bag, please be careful regarding the colors. As the lifelike love doll will be in the storage bag for long periods of time, colors are likely to transfer from the bag if the wrong material is used.

3. Do not store your real sex doll with clothes on. Ensure she is not wearing any tight clothing or dark color fabrics for a long time. Dark color fabrics may stain the doll's skin, while tight clothing may leave permanent marks or indentations if they are left on during storage.

4.In order to prevent the material from aging, please don't expose your custom love doll to direct sunlight for long periods of time. The sun may fade her skin and facial features unevenly. Hot and cold temperatures may warp your love doll's feature over time. However, this only happens with extreme temperatures, no need to worry about normal fluctuations, but below freezing and extreme heat should be avoided.

5. If anything is pressing into the full-size adult sex doll's skin for a long period of time, you may find that permanent indentation occurs. It is important that the real sex doll is suspended in the air or resting on a soft surface. 
OTHER CARE TIPS
1. Adult Sex doll has a metal skeleton with several fixed and movable joints that allow her to be flexible and perform a wide range of poses. But we suggest that you don't put the adult sex doll in a difficult position. Avoid using sharp objects, fire sources, or a hair dryer. They will hurt your doll's skin. Stretching the limbs and extreme force with your love doll can damage the doll's soft skin and skeleton too.
2. If you like the doggy style, don't put weight on your love doll's hands or wrists. Protect her palm and support your adult sex doll's torso with pillows, a quilt, or other soft objects.
3. Using a condom is recommended if you want to simplify the cleaning process.
4. You can put the best sex doll in water or shower with her, but be careful not to let her head or neck get submerged under the water. It is important that the neck and head do not get too wet, or submerged under water, as this could cause rust build up in the neck screws.
5. If you want to move the arms and legs to position your realistic sex doll, remember to move the limbs back to the original straight position when switching to a different position.
The diagram below is an introduction to the joint and movement capability of most models.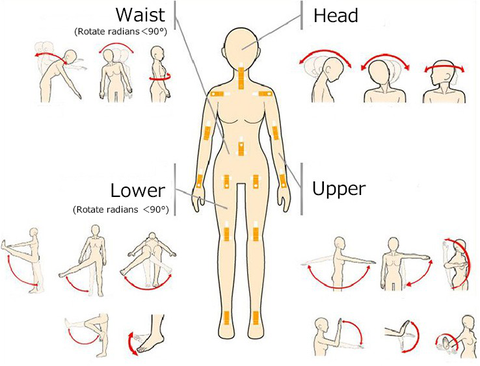 6. We recommend using a "water-based lubricant" when entering the vaginal, anal, and oral canals to prevent tearing the skin and to enhance longevity.
7. We recommend using water and neutral soap to clean TPE and silicone love dolls. Please do not use chemicals, alcohol or any other general use stain removers.
8. You can use makeup. Just be careful when applying and removing makeup. Avoid oil-based makeup or chemicals. Only use water-based makeup. Do not use makeup removers that might contain alcohol.
9. Wash the clothes before putting them on a real doll. The best clothing for adult dolls is a light color.
10.Don't store the sex dolls when it's not completely dry. This might cause bacteria build up and spread infections.
11. Don't use an electric air dryer because it might damage your sex doll's material.
12. Oil your TPE sex doll 3-4 times per year. You can use baby oil.
13. Apply corn starch or baby powder before more extended storage periods to absorb excess oils and to keep the material feeling smooth.
14. Use a 1-to-5 soap to water ratio for the best cleaning experience.
MAINTAINING
How to Replace a Sex Doll's Fingernails
1. If a fingernail is broken, lay your fuck doll in a neutral position and straighten the loose fingernails with fingers so you can determine which one goes where.
2 Clean and dry the finger before using a thin layer of TPE sex doll safe lash and nail glue.
3. Applying too much glue creates overspilling. If it occurs, remove promptly with a soft fabric and a warm soapy water solution.
4. Align the fingernail properly and press against the finger for 5 seconds.
5. Use tweezers to carefully pull fingernails that might be partially broken or in need of repair.

How to Replace a Sex Doll's Eyes
1. Lay your TPE or silicone sex doll in a neutral position before carefully pulling the eyelids apart (up and down).
2. Carefully remove the eyeball with the other hand.
3. Pull the eye apart with one hand and pop the new eye in with your other hand.
4. Line it up properly for a perfect look.
How to Fix a Sex Doll's Loose Eyelashes
1. Lay the sexy real doll upright on a flat surface.
2. Pull the loosened eyelash back and carefully apply the glue.
3. Hold for five seconds and let go.
If you have other problem with maintaining your love dolls, please contact capjack2020@gmail.com .We would provide you professional advice.